Chantal Schreiber
Author. Writes books for children, young adults and older adults. Is owned by a dog and a horse. Cosmopolitan, Traveller. Outdoor person. Enjoys learning languages. Moviejunkie. Bookjunkie.
What's new?
My Very Important Readers receive regular updates about upcoming books, public readings and my frantic author's life! Exclusive give-aways and sneak peek chapters included! ☺
Come join the VIR tribe ♥
First Readers: NEW!
KURT – the one and only. Or not?
Munching on Marigolds would be Kurt's preferred pastime. However, innocent lives are at stake, and Kurt is, like it or not, a noble, if grumpy unicorn. And so he goes on another horn-boggling adventure featuring fearless Ninja-Goldfish, a love-struck giant piglet, a not so little little brother, magical mushrooms and, of all things – a Bihorn!
The sequel to "KURT- Stop the glitter already" is a wild ride, so fasten seatbelts and enjoy!
Published September 2020 by Ellermann Verlag, Verlagsgruppe Oetinger
Girls 12 and up: NEW!
Sustainably in Love
Fifteen year old Zoe and her brother Jack volunteer to run their Mom's zero waste store while she is away – a full time job for Zoe which keeps her from obsessing about Milo, her ex. The break up has shaken her self confidence – wobbly to begin with – severely. When funny, cute Leon shows up at the store and seems to be seeing so much in her that she doesn't, things begin to shift. And when out of the blue everything her family has been working so hard for is at stake, Zoe finds help where she least expected it – and the strength to no longer hide her true self.
Published July 2020 by Schneiderbuch
Girls from 16 to 106: NEW!
Romance in the cards!
Gwennie is a successful author of romance novels, and seems to have found her personal happy ending with Mike. Or so she thinks, until within a few weeks of proposing, he starts behaving strangely, pulling back and demanding more "me-time". Gwennie's best friend Kat urges her to break up with Mike, but Gwennie won't hear of it. She loves him, right? And there is the issue of the clairvoyant who saw a wedding in Gwennie's near future. So Kat decides to mess with fate a little – in Gwennie's best interest, of course.
A fast paced novel about men, women, friendship and the importance of Italian desserts.
Published July 2020 by BoD
As Mila Sternberg / Girls 9 and up / NEW!
Emily – Horse Whispers and Donkey Ears
Emily's gift with numbers enables her to to win the prize money on a TV show and make her big dream come true: to have her own horse. Soon she owns Runa, a chubby Icelandic-mix mare. Emily is often challenged when it comes to communicating with her fellow humans, her deep connection to animals on the other hand is a rare and beautiful thing. When she realizes Runa is suffering from a broken heart, she is determined to make her happy again, even if it entails facing her greatest fears.
Published February 2020 by DRESSLER Verlag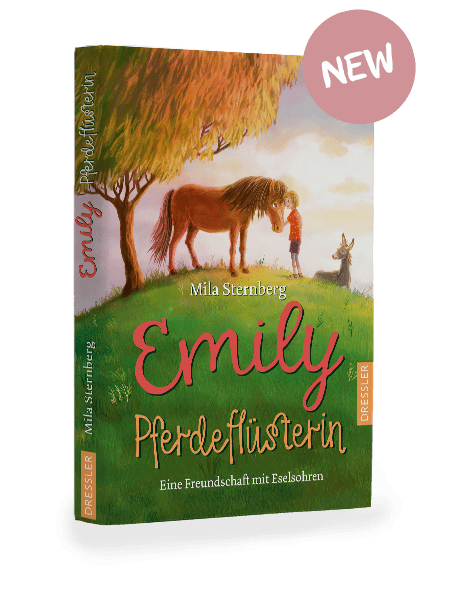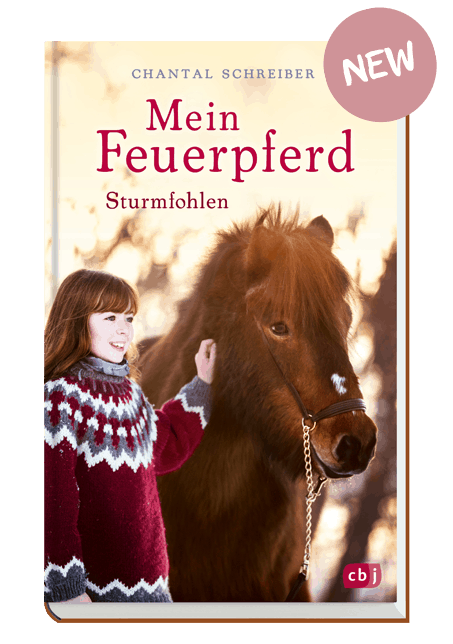 Girls 10 and up: Follow-up! NEW!
Eldur 2 – Storm
Finally! Eva is back in Iceland, with her Dad and stepmom, her new baby brother, and of course Eldur, her horse. Her joy is considerably lessened, however, when her step-cousin Emma arrives at her Dad's house. From the very start, Emma acts strangely towards Eva and does her very best to make Eva's life hell. Pretty soon Eldur seems to be the only one Eva can rely on. As the two girls end up alone in the house during a snowstorm one night, the horses are suddenly in danger. Eva and Emma have to overcome their differences to save the pregnant mare Gusta and her foal – but time is running out …
Published October 2019 by cbj
First Readers:
Kurt – stop the glitter already!
A bird that never shuts up, a princess who is not above whacking a prince over the head, and Kurt, the reluctant unicorn who prefers eating his buttercups in peace very much to being stared at for releasing pink glitter with every move and rose perfume with every fart. Why would Kurt set out to save a tiny princess he's never set eyes on, when there's plenty of buttercups he could busy himself with? Simply put: Because he is more softhearted – and also more magical – than he was aware of!
Funny, quirky and grumbly – Kurt is a force to be reckoned with.
Published July 22th 2019 by ellerman – Der Vorleseverlag